Wellcome to Pablo's own webpage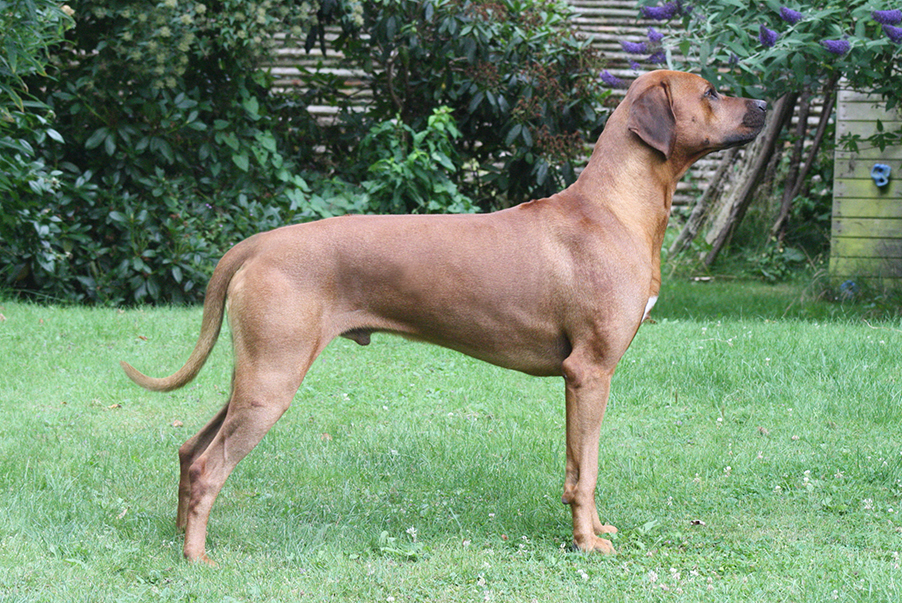 DKJUCH Hazinas 8th Heri "PABLO"

About Pablo:
Pablo was born on 24 May 2018 - our 8th litter. Pablo is a happy go lucky guy with a wonderful temperament. He is friendly and loving, and he is very easygoing with other dogs. He has attended doggy-daycare 2-3 times a week nearly all his life, and all 2-legged and 4-legged love him. His best playmate for a whole year was a Great Dane boy, the same age as Pablo, and it was very much brotherly love at first sight.
But Pablo is also very much a ladies man. His best friend is Hannah, whom he enjoys spending time with. And he also had a lot of fun with 7 year old aunt Filly when he was visiting her.
Pablo adapts to all family activities with great joy. He loves being with his family (mum and dad and their two daughters) playing on the beach, running in the forrest, accompaning them to town, sailing in the summer or watching the world go by from the family cargo bycykcle. And he has even started hiking with his dad, and sleeping in shelters.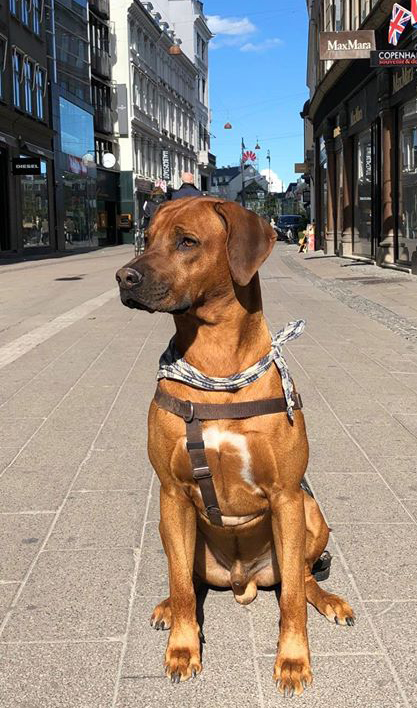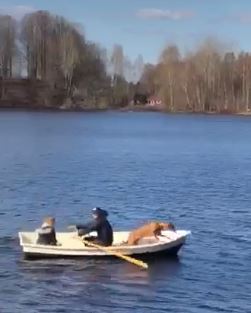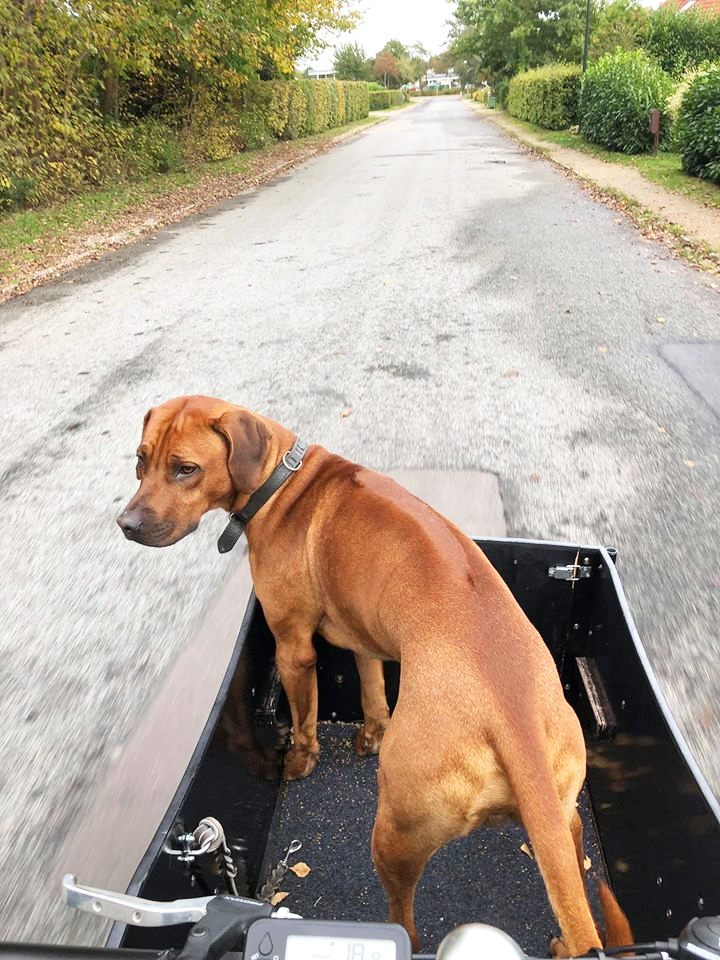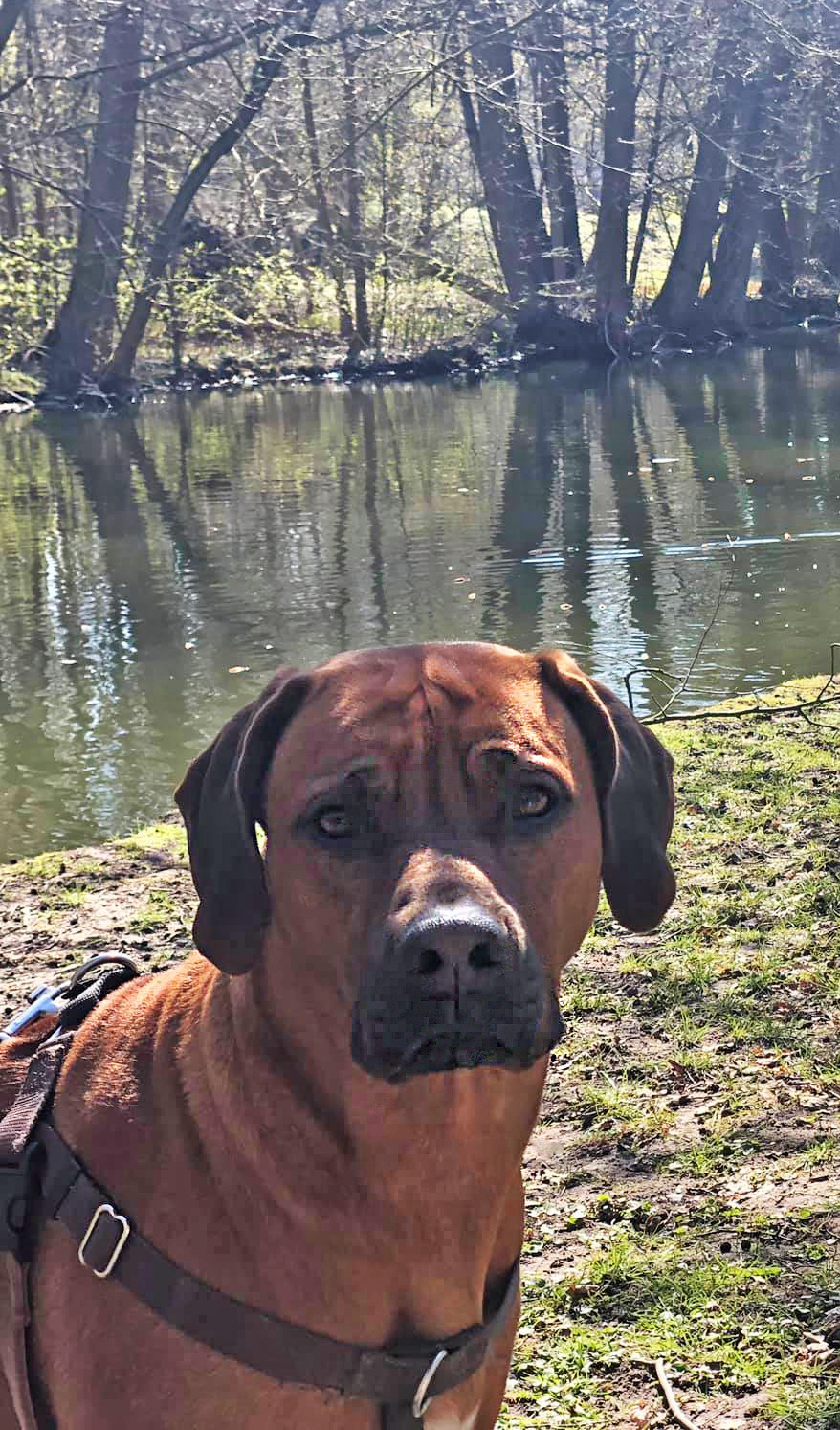 Pablo's data:
Born:

24 May 2018

Sire:

MULTICH INTCH SEVCH Maiden's Kalahari Kandy

Dam:

Hazinas 6th Funanya by U

Height:

66 cm

Weight:

40,5 kg

Coat:

Red Wheat

Bite:
Complete scissor bite
HD
A/A (Free)
AD
0/0 (Free)
OCD
Free
JME
Free (non carrier)
DM
Free (non carrier)
Hemophilia B
Free (non carrier)
Locus D
Free (non carrier)
Locus B
B/B (non carrier of liver nose)
Ridge
Heterozygote (R/r)

Temperament:

Very friendly and happy with a lovely nature. Meets all and everything with joy. Playful, wellbalanced and calm. Sufficiently reserved for his age. Very easygoing with other dogs. No male aggression. Easy to train. Good tracking skills.

Pablo attends doggy daycare 2-3 times a week and plays happily with all the other dogs.

Dermoid Sinus:

Pablo comes from a Dermoid Sinus free litter. Kennel Hazinas has had no puppies with Dermoid Sinus in our breeding so far.

Pablo's pedigree - 5 generations:
(Click on the picture for large version in .pdf)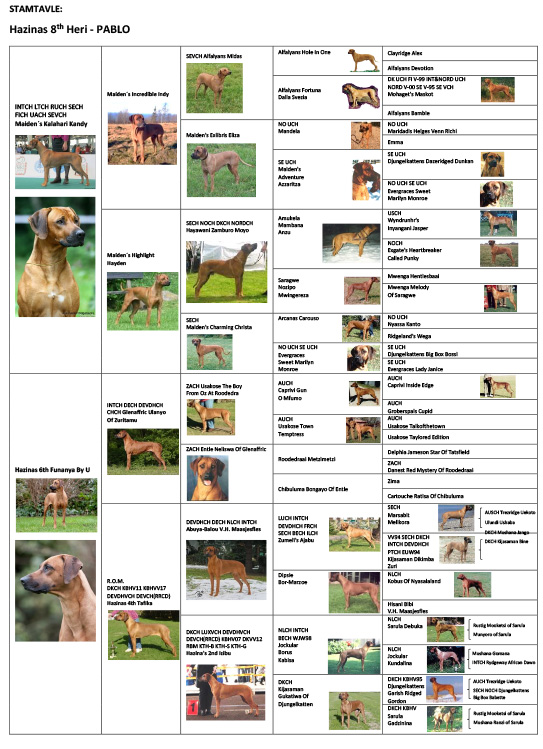 Pablo's parents:
Pablo's mother is Hazinas 6th Funanya By U, aka Naya, who has had 3 litters. Pablo is from her 2nd litter. Naya has been in the show ring some times and has been awarded the CQ (champion quality) and also placed in Best Female 1-4. Naya comes from Hazinas 6th litter, 12 puppies who are well known for their lovely easygoing temperaments. And we see that this good quality is passed on to Naya's children.
Pablo's father was the friendly, beautiful stud, Multi Ch Maiden's Kalahari Kandy, from Sweden. A lovely male with a wonderful temperament, who unfortunately is not with us any longer. We are so grateful to Elena og Willy, for giving us the opportunity to use Kandy in our breeding. We will never forget this lovely boy and what he has contributed to our blood lines.
Get more information about Pablo's mother and father on their own websites:



Pablo's siblings: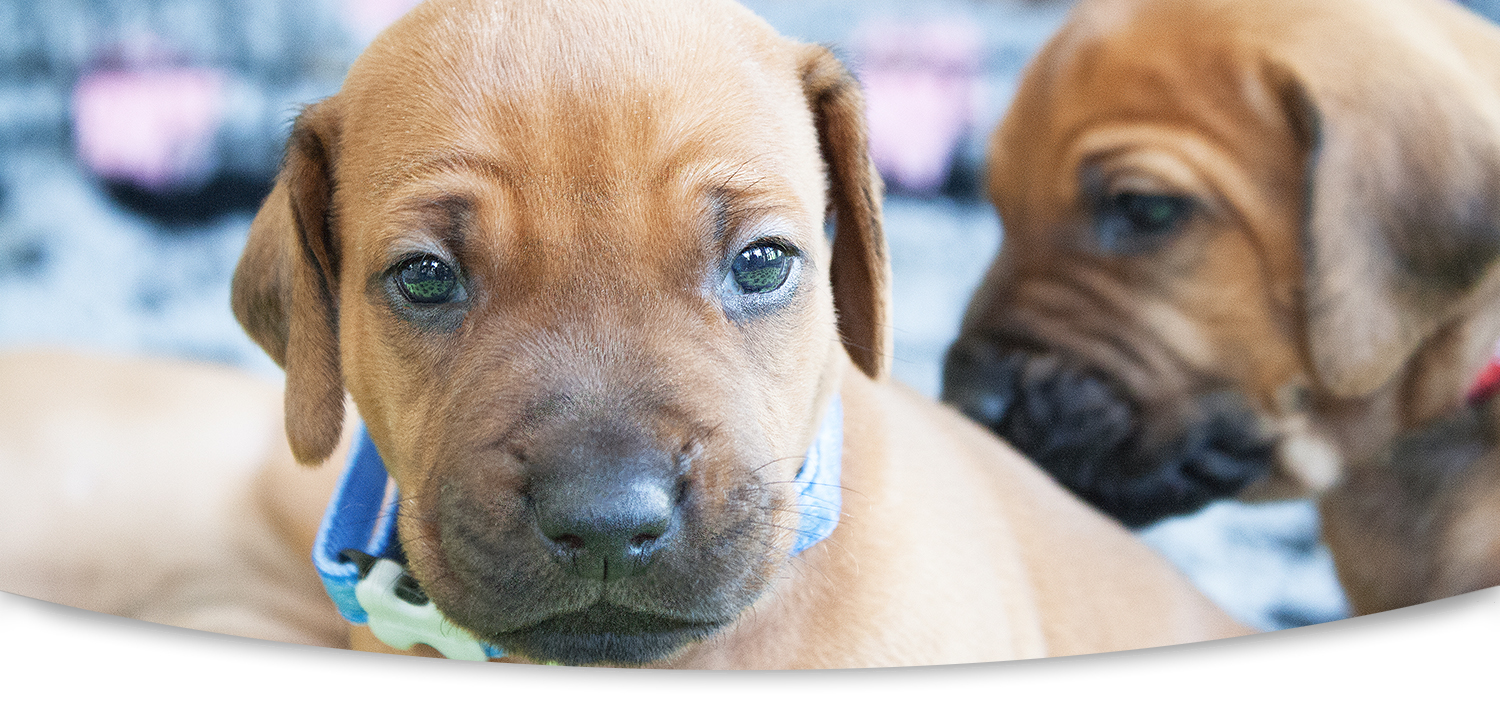 Pablo has 6 siblings - three sisters and three brothers. Here is our presentation of the gang nearly 8 weeks old:
(Click on the pictures for large version)


Show Dog:
Pablo has attended dog shows since he was a baby. Here he is on his first show at the Danish Rhodesian Ridgeback Club's Specialty Show in 2018. He went Second Best Baby Male out of 6 - and he was the youngest.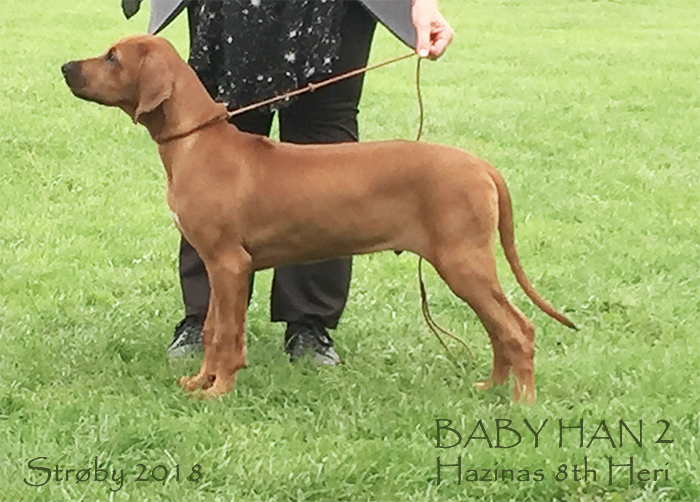 Pablo managed to get the 3 Junior Certificates needed to become Danish Junior Champion, before he moved up to Intermediate Class. Here is a little news about the 3 shows where he received the Junior Certificate:
10/03-2019:
Middelfart, The Danish Rhodesian Ridgeback Club
Judge: Milada Krchnava
Pablo won the Male Junior Class going Excellent with CQ and got his first Junior Certificate. Here he is running out after judgement with his certificate carefully between his teeth :)



23/06-2019:

Vejen, The Danish Kennel Club
Judge: Tom Johnston
Pablo won the Male Junior Class and got his second Junior Certificate. Later he was placed as Third Best Male with Reserve CAC.



03/08-2019:

Varde - The Danish Kennel Club
Judge Jessie Borregaard Madsen, DK

Pablo won once again the Male Junior Class with Excellent and CQ and got his third and final Junior Certificate, and became DANISH JUNIOR CHAMPION. Later he again was placed as Third Best Male and got his first CAC.



Contact Information:
Lena Carlsson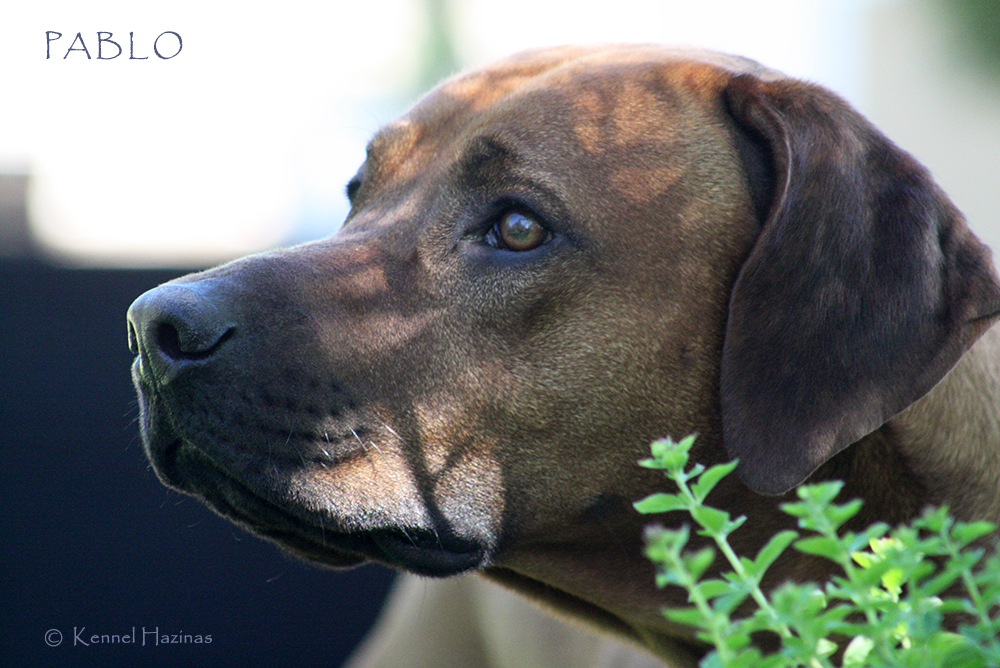 Copyright © Hazinas 2020 - All rights reserved.