About Pablo:
Pablo was born on 24 May 2018 (Kennel Hazinas 8th litter). He lives near Copenhagen with his family - Mum, Dad and their two daughters. Pablo is a happy go lucky guy with a wonderful temperament. He is friendly and loving, and he is very easygoing with other dogs. He has attended doggy-daycare 2-3 times a week since he was very young and up till Corona started. His best playmate at the daycare was a Great Dane boy, the same age as Pablo. It was brotherly love at first sight.
But Pablo is also very much a ladies man. He has enjoyed spending time with his 6 years older aunt Filly and his 2½ years younger niece Milla.
Pablo adapts to all family activities with great joy. He loves being with his family (mum and dad and their two daughters) playing on the beach, running in the forrest, accompaning them to town, sailing in the summer or watching the world go by from the family cargo bicycle. And he has started hiking with his dad and some of dad's friends, sleeping in shelters on their way.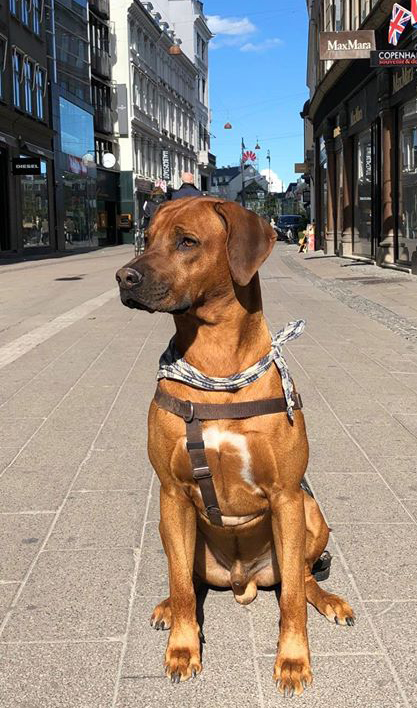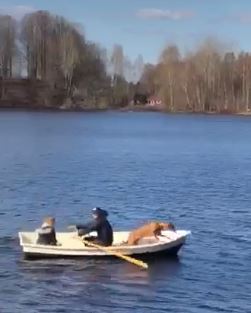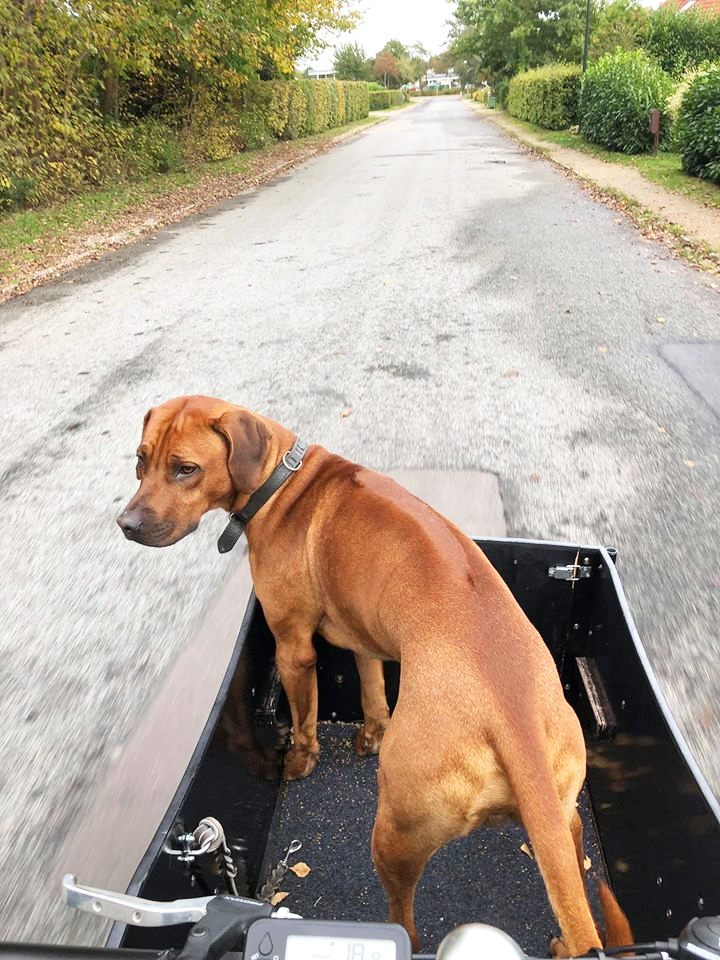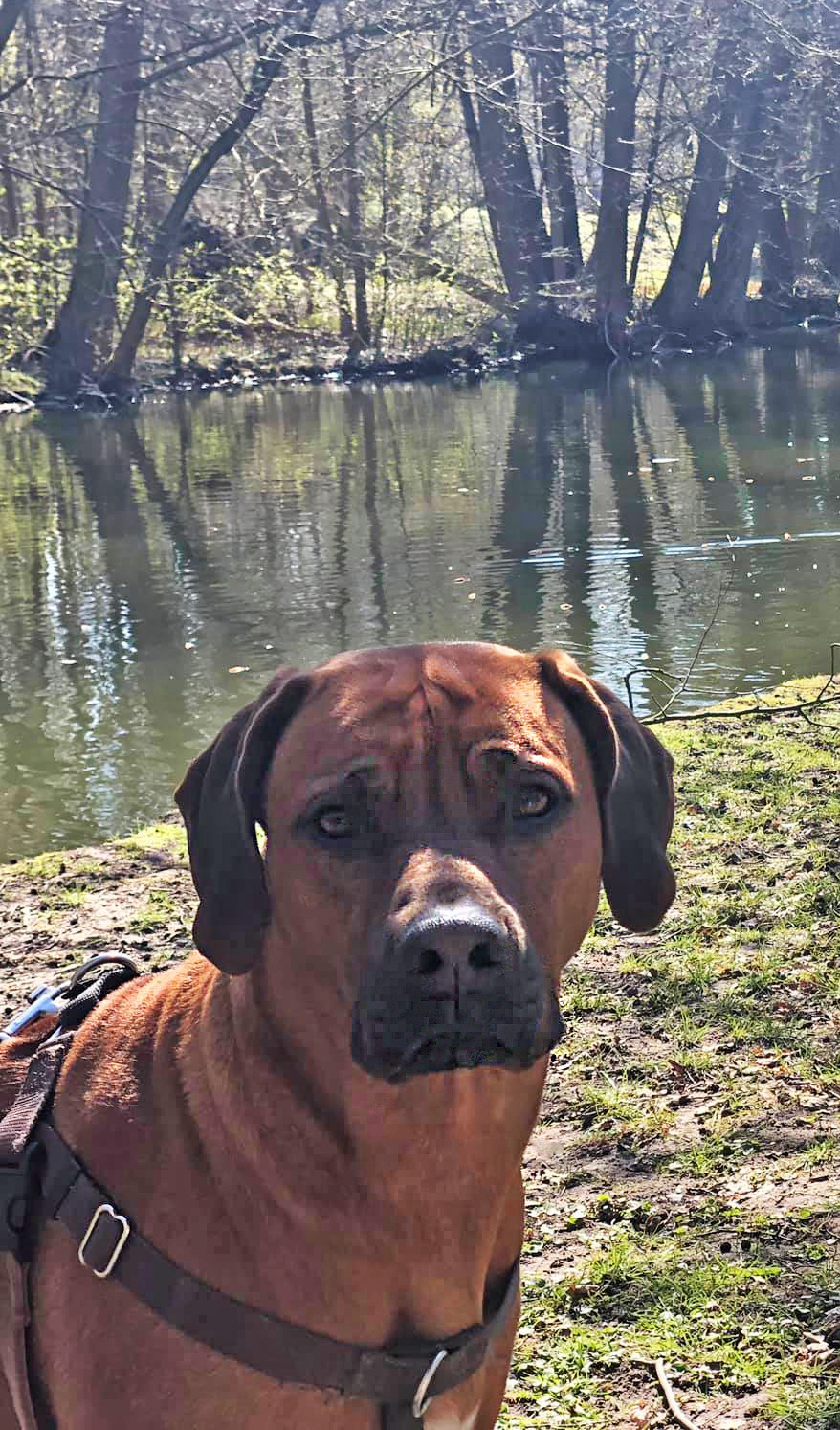 Pablo's Data:
| | |
| --- | --- |
| Born | 24 May 2018 |
| Sire: | MULTICH INTCH SEVCH Maiden's Kalahari Kandy |
| Dam: | Hazinas 6th Funanya By U |
| Height: | 66 cm |
| Weight: | 40,5 kg |
| Coat: | Red Wheaten |
| Bite: | Complete and correct scissor bite |
| HD: | A / A (Free) |
| ED: | 0 / 0 (Free) |
| OCD: | Free |
| JME: | Free |
| DM: | Free |
| Hemophilia B: | Free |
| Locus D: | Free |
| Locus B: | B / B (Non-carrirer of liver nose) |
| Ridge: | R / r (Heterozygote) |
| Temperement: | Very friendly and happy with a lovely nature. Meets the world with curiosity and joy. Loves to play, is well-balanced and calm and sufficiently reserved. Very easygoing with other dogs. Easy to train. Good tracking skills. |
| Sinus: | Pablo comes from a Dermoid Sinus free litter. |

Pablo's parents:

MOTHER: Hazinas 6th Funanya By U - aka Naya
Naya, has had 3 litters and Pablo is from her 2nd litter. Naya has been in the show ring some times and has been awarded the CQ (champion quality) and also placed in Best Female 1-4. Naya comes from Hazinas 6th litter - 12 puppies who are well known for their lovely easygoing temperaments.

Naya's mother was Champion Hazinas 4th Tafika (aka Fika), a beautiful female, who is very much missed by family, co-breeder and friends.

Naya's father was Multichampion Glenaffric Ulanyo of Zuritamu, a beautiful male who was wellknown for his wonderful, friendly nature.

Go to Naya's own website

FATHER: Multi Champion Maiden's Kalahari Kandy
Kandy was a friendly, beautiful stud who lived in Göteborg, Sweden with his owners Elena and Willy. A lovely male with a wonderful temperament.

We are so grateful to Elena og Willy for giving us the opportunity to use Kandy in our breeding, even though he was retiring as stud. We will never forget this lovely boy and what he has contributed to our blood lines.

Go to Kandy's own website

Pablo's siblings: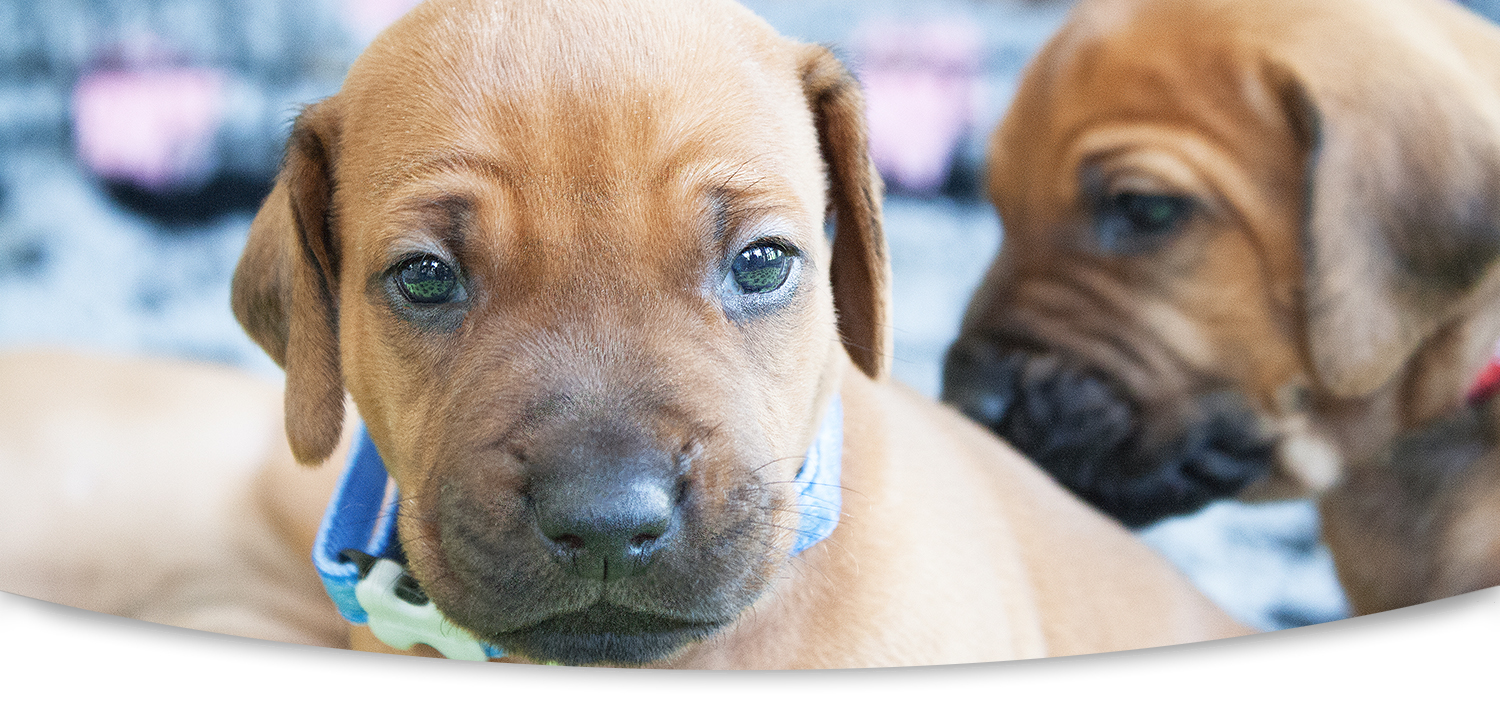 Pablo has three sisters and three brothers. They were concieved by Artificial Insemination with frozen semen in Oslo, Norway.
Presentation of the puppies nearly 8 weeks old:
(Click on the two presentations for large version)


Show Dog:
Pablo has attended dog shows since he was a baby. He went Best Junior Male of the year 2019/2020 and was awarded the Danish Junior Championship when he was 16 months old. He has not been shown much during Corona time, but we hope he will continue his show carrier in the near future.
Here he is on his first show at the Danish Rhodesian Ridgeback Club's Specialty Show in 2018. He went Second Best Baby Male out of 6 - and he was the youngest: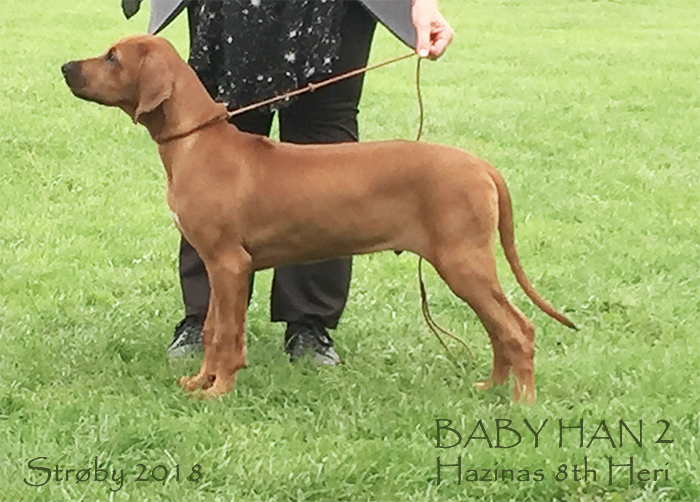 Here is a little news about the 3 shows where he received the Junior Certificate:

10/03-2019:
Middelfart, The Danish Rhodesian Ridgeback Club
Judge: Milada Krchnava
Pablo won the Male Junior Class going Excellent with CQ and got his first Junior Certificate. Here he is running out after judgement with his certificate carefully between his teeth :)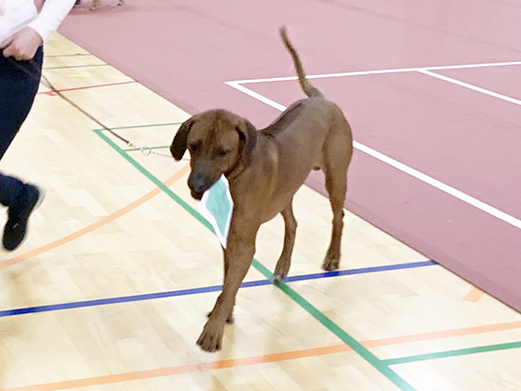 23/06-2019:
Vejen, The Danish Kennel Club
Judge: Tom Johnston
Pablo won the Male Junior Class going Excellent with CQ and received his second Junior Certificate. Later he was placed as Third Best Male with Reserve CAC.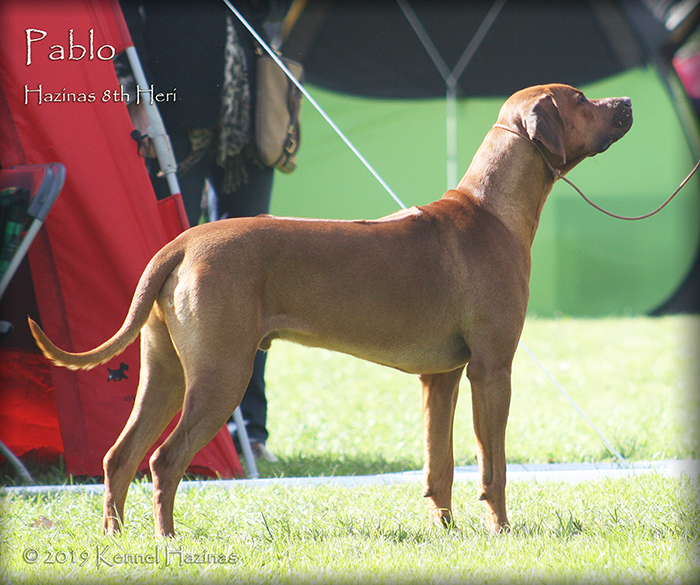 03/08-2019:
Varde - The Danish Kennel Club
Judge Jessie Borregaard Madsen, DK
Pablo won again the Male Junior Class with Excellent and CQ and got his third and final Junior Certificate, and became DANISH JUNIOR CHAMPION. Later he was placed as Third Best Male and got his first CAC.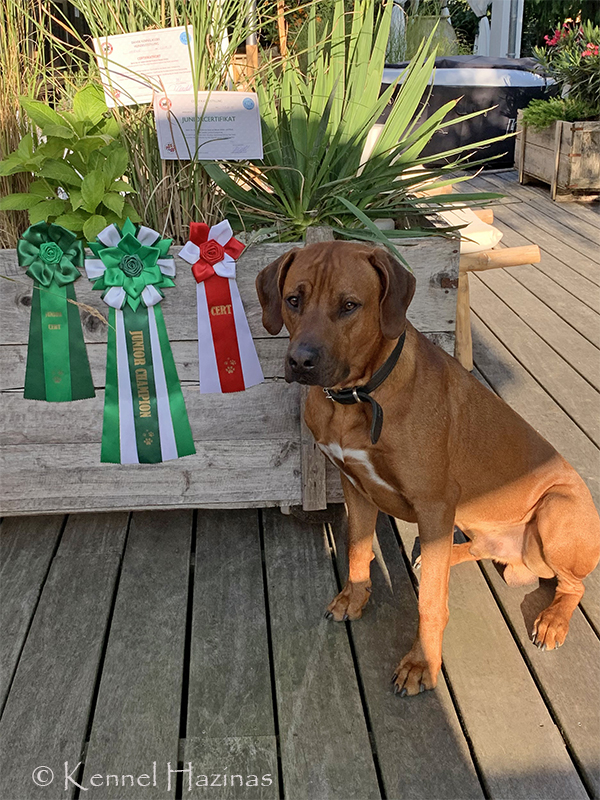 Copyright © Hazinas 2021 - All rights reserved.